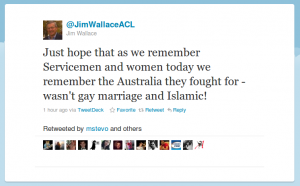 Just hope that as we remember servicemen and women today we remember the Australia they fought for — wasn't gay marriage and Islamic!
By now, most people likely to read my blog have heard of the disgraceful Tweet, quoted above. It was posted on ANZAC day by the managing director of the Australian Christian Lobby, Brigadier (ret1) Jim Wallace. He subsequently notpologised, expressing sorrow for his timing but not for the content of his Tweet. Unlike Mr Wallace, I am not a military person, but I should think that if servicemen and women are fighting for values, then freedom (e.g. of religion) and democracy (e.g. to choose how and when to reform marriage laws) might be among the values fought for.
However, something particularly stood out when Wallace notpologised again, this time on the Sunrise program:
I'm not slurring gays. I have a lot of friends and associates [who] are gays
And I was reminded of this video, recorded at a FORT Australia debate on Internet censorship.2 Here, Mr Wallace is asked what moral authority the church has compared with the adult industry when over 600 clergymen have been prosecuted for child abuse and no-one from the pornography industry has. His response is shocking, and I've added emphasis:
Questioner: We've heard a lot of facts and figures tonight. In a sense it's about moral authority, I think, between the two sides. I just wondered if Jim and Angela could quickly comment on the facts and figures: around 600 church clergy who have been prosecuted for abusing young children in Australia and yet not one person from the so-called pornography industry has ever been convicted of that in Australia. And I just think that gives a lead to moral authority in a sense and we never hear you speak about this and I think we'd all like to hear something about it.     


Jim Wallace: Yeah, I'm only too happy to address this actually, because I think it's an issue that hasn't been addressed adequately. Some of you won't like this, but this is fact, ok? In Australia, in Ireland, in America, the people who have been prosecuted the sexual offence [sic] against minors have in Australia been over 70% — and remember that the churches who, who have been victims of this have had a policy where they do not accept homosexuals as part of their clergy. Right? Do not accept. And yet in Australia, over 70% of the offences have been committed by homosexual clergy. In America, the figure is over 90%, I think it is. Certainly 80-90%, I just forget exactly. And in Ireland, more recently, it is again 70-something per cent. And as recently as the last couple of months in a report that came out from the archdiocese of Sydney, sorry Brisbane, again the figure was over 70%, in fact in the high seventies. Now, what I say to you is: yes, the church has a problem with this. There's no doubt. But it is being perpetrated by people that the church would never have put into authority in the churches. That's not an excuse, the church still…

Audience member: They have put them into authority!

Jim Wallace: No, no, but the church would not have admitted [them] into authority, positions of authority, had they known about their sexual preference.

Audience member (sarcastically): So it's not the churches' fault, it's the bloody homos?

Jim Wallace: No, no, I'm saying to you, I'm saying to you, yeah? I'm saying to you it is exacerbated by the fact that the people who have got in there would not have been there if the church had been implementing…

Audience member: I'm sorry, I thought the problem was pedophilia, I didn't think it was their sexuality?

Jim Wallace: Well, I'm saying to you: over 70% of the problem is actually to do with their sexuality, which the church would never…

Audience member: They're pedophiles!

Jim Wallace: Yeah, they're pedophiles, but it was pedophiles with a homosexual, er, attraction which the church would not have allowed in there.

Audience member: So 30% don't matter?

Jim Wallace: No, I've just said to you: the sort of figures that we're talking about here are also replicated in schools, in all sorts of places which are not churches. And I don't know the figures of the sex industry. [Laughing]  I imagine there's probably less opportunity than in a school or a church.

Audience member: There's no convictions in the sex industry.

Jim Wallace: [Continues laughing] No, but I imagine there's probably less opportunity in the sex industry. Well, I would hope there would, because I would hope there wouldn't be children in there. Eh? But in churches and in schools there are children there. [Walks away, smiling smugly]

Audience member: I wasn't aware of any studies that said there was a higher incidence of pedophilia among homosexuals anyway. I think the problem is pedophilia, I don't think it's to do with their sexuality.

Jim Wallace: Alright, well that's your view. I'm…

Audience member: Do you have any studies? Can you cite them?

Jim Wallace: Well, I can actually. I don't have them here with me now, but yes there are. Many. Many. But I'm quoting you a figure to do with the question I was asked, which was about sexual abuse in the church.
Here's the video. I feel sick having transcribed it:
See my Catholic Blame site for more excuses for catholic child abuse.
1 No, it stands for 'retired', apparently.
2 I remember it well, as I have long been actively opposed to the Australian government's censorship fetish. Indeed it was around this time that APC magazine called me "clearly a man who knows his tech history" and "the voice of reason"