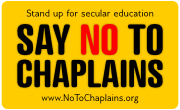 Great news on the National School Chaplaincy Program:
Intervening State Governments supporting the Plaintiff's (Ron Williams) contentions that a funding agreement between the Commonwealth and Scripture Union Queensland is beyond the executive power conferred on the Commonwealth…
Western Australia July 1, 2011
New South Wales July 18, 2011
Victoria July 20, 2011
South Australia July 20, 2011
Tasmania July 20, 2011
Queensland July 20, 2011
And as you know, because you've got smarts, that is all of them. The Northern Territory and the ACT are abstaining, it seems. Cue Christian blog posts headed 'Northern Territory refuses to support secularists trying to destroy our freedoms!'
The Say No To Chaplains campaign has seen over 1,500 people Tweet Julia Gillard and Peter Garrett to voice their opposition to the NSCP. Over 3,000 people have spread the word on Facebook. If you haven't already, do it!
Speaking of Peter Garrett, our esteemed Minister for School Education, Early Childhood, Youth and Midnight Oil, he's absolved ACCESS Ministries of trying to convert students in breach of government guidelines. This is despite the gloating of the gruesome Evonne Paddison, who bragged about exploiting children to recruit for her cult:
Two sisters in their early 20s spoke of the impact of CRE on their lives. They came from an unchurched family, but at CRE, Christian religious education, they heard of God's existence and his love for them. They love the stories and they pester their parents to take them to church! The parents really didn't want to do this, but eventually they gave in. The children came to faith, and later so did their parents.
(Yes, there is a difference between CRE and NSCP, but proselytising is supposedly forbidden by both and news coverage of Garrett's comments suggest they  covered both).
Victorian Education Department said its investigation into proselytising in religious instruction classes would be completed by October.
Which would make Mr Garrett's assurances rather premature, wouldn't it? Still, at least we can trust the Minister for Kids' Minds to be impartial and fair, right?
No way. As m'colleague Jason Brown reveals, Peter Garrett will dance, dance wherever he may be:
If your perspectives and values are shaped by a Christian faith, as mine are, then that opens up far more possibilities than can be ever dreamed of by Strangelove and his cohorts. There's an evolution of ocean organism to dinosaur to Christ, which represents the single transcendent act that the word has yet encountered. History was made and is still being made, hope was offered, but faith is not blind. It has partner values: of fidelity, of compassion, of creative empathy, outwards empathy, a forgiveness, of inclusiveness, of humility, of acuity, and of love. And these are the values that we're going to need in our brave new world of tomorrow.
- Peter Garrett
(Does the education minister believe all humans are descended from dinosaurs, or is Jesus's dino DNA from his father's side?)
So while the High Court Challenge looks promising, it seems we have a fair way to go before kids are finally protected from being targeted for religious recruitment at school, at our expense.