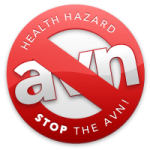 Among the many successes of Stop The Australian Vaccination Network, the correction of false balance has been one of the most important.
Time was, whenever a big story related to vaccination broke, out would bustle Meryl Dorey of the AVN to offer her opinion in the interests of 'putting the other side'. But unlike politics, scientific understanding is not a matter of opinion. If you don't have the evidence, then you don't have another side. This is why the carpet painted by God is overlooked in astronomical news items.
In recent years, things seem to have got better. The anti-vaccination movement has undergone a thorough credibilectomy. Andrew Wakefield is discredited, Jenny McCarthy has gone quiet and antivax loons are held to much better account.
But now and again, something goes wrong.
Today, ABC Science posted an article by Anna Salleh that got things pretty badly wrong.
Vaccine and cancer experts in Australia have defended criticism of the Australia's HPV vaccination program.

The criticisms have been raised by Judy Wilyman, who is completing a PhD on the Australian government's vaccination policy at the University of Wollongong.
Yeah, the wording confused me too. I think it means this:
Vaccine and cancer experts have dismissed unfounded scaremongering about government policy from a postgraduate student
The article goes on to enumerate a long list of half-baked anti-vaccination claims, redressed with only perfunctory attention to actual experts in the subject.
Who is Judy Wilyman?
The student making the claims, Judy Wilyman, is no stranger to #StopAVN. She has appeared on a double-bill of crazy with Meryl Dorey on more than one occasion, credited somewhat dubiously as a 'PhD researcher at Murdoch University'. She's even been caught using Murdoch's logo on marketing materials for the clown shows, to the Uni's considerable annoyance.
While studying at Murdoch University, her still-unfinished PhD was supervised by one Dr Peter Dingle. That name may also be familiar to you. He is also not an expert in the field of vaccination. He is an environmental toxicologist turned alt. med. guru, whose wife tragically died after she rejected medical treatment for her cancer:
Last year's coronial inquest into Mrs Dingle's death found that Dr Dingle, who has no formal medical qualification, was actively involved in isolating his wife from the outside interferences of those recommending conventional medicine.
Now at the University of Wollongong, Judy Wilyman's PhD work continues, supervised by Dr Brian Martin. Yes, that Brian Martin. He has for some while campaigned for the AVN's freedom to say whatever they like, untrammelled by criticism (or indeed reality). Brian Martin is (of course!) not an expert in vaccinations or cancer either. His qualifications are in physics and he teaches social sciences.
Oh, and there's yet another familiar name among the list of PhD students supervised by Brian Martin.
ABC Science have published a dangerously misleading article. In indulging the inexpert claims of a known anti-vaccination crank it goes against the grain of all sound medical advice, and its author's undisclosed connections are worrying.
The ABC Science 'Editor's choice' was ill-advised.