The Global Atheist Convention was awesome.
I don't plan to say much about the program, because my friends Martin Pribble, Godless Business and Chrys Stevenson, as well as many others to whom they link, have done a splendid job. You should particularly read Chrys's blog, because she called me young.
And much of what I would have said could be expressed as well in just two images.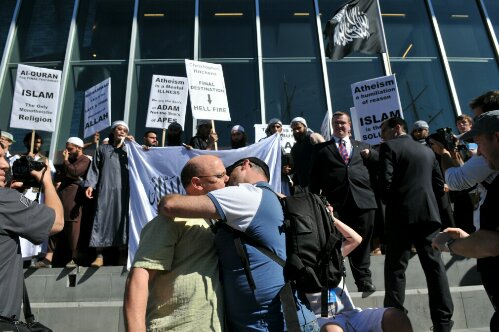 This picture, of Gregory Storer and Michael Barnett kissing in front of the Muslim protesters was taken by Pete Darwin.
The first 'Global' Atheist Convention dealt with the obvious questions: who are we, and why would would we congregate? What do we believe, if not superstitious god-gibberish?
This convention dealt with one question above all others: what to we want to do? Secularism, youth activism, fixing the treatment of women and children, meditation, accepting death and the universe from nothing. Oh, and much, much more. This convention was not about the existence of gods.
It was about life. The good life, in spite of religion. In fact, AtheistCon may as well have been about kissing, regardless of religious butthurt.
When history reflects on my generation, I hope this kiss is not forgotten.
Meanwhile, in the same city, largely ignored by those not involved, stood a crumbling facade. Propped up brutishly and casting an unpleasant shadow, there was plainly nothing behind it but dreams of a renewal. Should the renewal come, it would not remotely resemble the facade's former home. The best to ever be hoped for: a veneer of what once was. Right now: a mess.
I took a photo of it: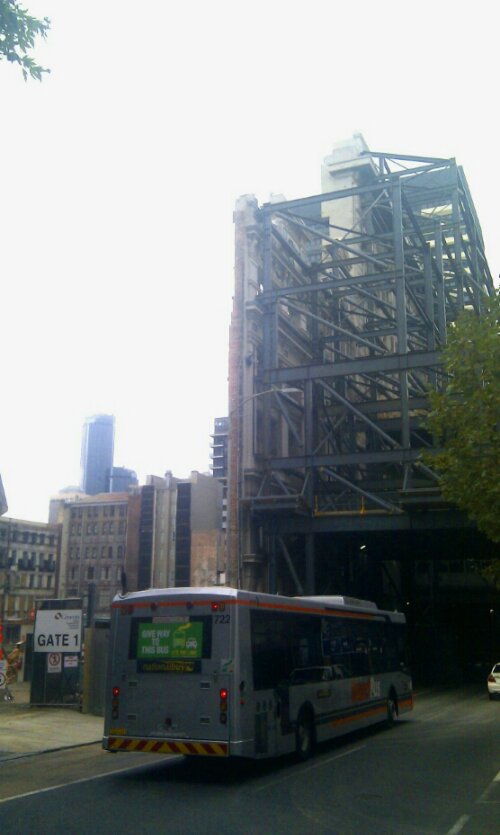 You thought I meant Reason for Faith, right?